Posts: 125
Joined: Fri Jul 08, 2011 10:33 pm
Location: Northwest Arkansas
One of the things that my family does for a relatively inexpensive meal is to make a pot roast dinner! In the past, we always used a crock pot, but since we have a large family now, we have started using our roaster with GREAT results!
This only takes three or four hours to cook. Keep in mind, the longer you cook it, the more tender the meat is. I like pot roast that is so tender is almost falls apart when you pick up a piece of it.
I don't use a recipe, but here's the basic idea:
- Place a defrosted beef roast in the roaster pan.
- Add water until it just covers the roast (most of the time I cheat here and add a little beef boullion since I love strong beef flavor!)
- Cook the roast on about 250 degrees until the meat is pretty much done in the center.
- If you want your meat to fall apart when it's done, this is the step where you cook it for a couple or more extra hours. Make sure you keep the water level up!
- Add a few onions, quartered.
- Add a bunch of baby carrots, or large carrots cut up, and cover. Cook until they ALMOST start to soften.
- Add a bunch of quartered potatoes and cook at 175-200 until the veggies are tender.
And here's what you get!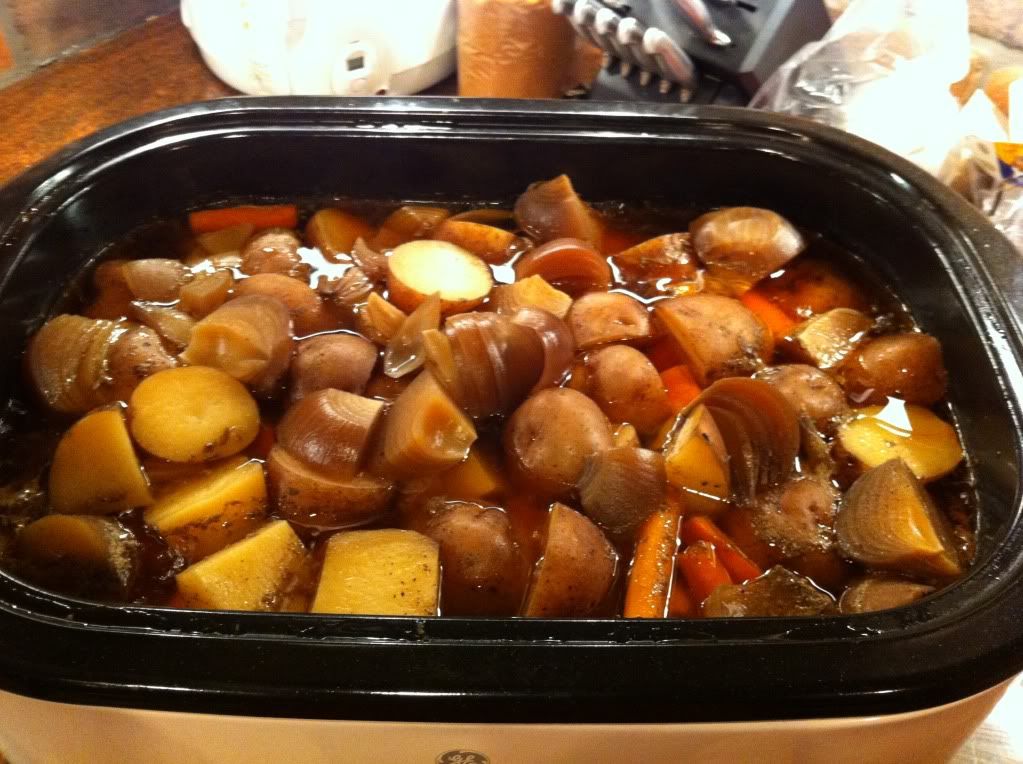 Yummy!!!
_____________________________________________
Patriot_RAM - FrugalHomesteaders.net Administrator
"Some people dream of success. Others wake up and work hard at it"
Treat your Cars, Trucks, & Boats to AMSOIL and Save! See how!